The Unofficial



Home Page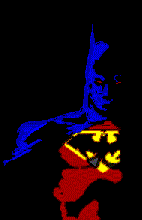 graphics © Jeff Germann this depiction of "Batman" © DC Comics is a possible Elseworlds version, designed by Jeff Germann -- Quote is taken from introduction to DC Comics Elseworld Stories. © DC Comics.

The Unofficial Elseworlds Database
This form can be used to search for a specific Elseworlds, enter your criteria and select "Search Database - Display" OR or simply leave all fields blank and choose "Show All Records" to see entire database
Tip: The fewer fields you use, the larger the return.