Elseworlds.net News from Matt The News Editor!
- 21 Nov 00
RETURN TO TOP
---
JSA: THE UNHOLY THREE
The creative power trio of Dan Jolley, Tony Harris and Ray Snyder are gearing up to begin work on JSA: The Unholy Three, the sequel to their prestige-format Elseworlds mini-series JSA: The Liberty Files, but before readers get to see that they'll have another Elseworlds project to look forward to from the creative team - Superman/Batman: The Hell Machines.

"It`s a two-part, 48-page-each prestige format project, with painted covers by Tony as well as several pages of painted interior art," said Jolley. "The plot - about which I can`t reveal details - has a real Fleischer cartoon feel to it, coupled with groovy old 1950`s sci-fi movies. At the same time, it takes full advantage of the Elseworlds imprint, in that you`ll see some familiar people totally flipped on their ears. And even though the characters and story are radically different, I think readers will recognize the sort of "flavor" Tony and I like to put in our Elseworlds projects. Hell Machines will be a true treat for the eyes.
(This article is from Fandom.com)

It seems that 2001 will be the year of the sequel!!
RETURN TO TOP
---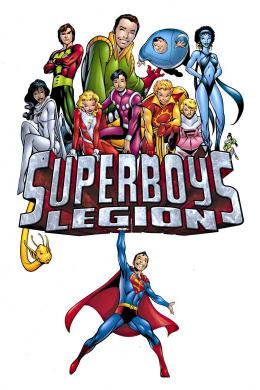 (More News From www.fandom.com/comics )
FARMER & DAVIS` SUPERBOY`S LEGION DETAILS

DC has released some more details on a a couple of February projects Newsarama told you about the last few months...creators Mark Farmer and Alan Davis` Superboy/Legion Elseworlds limited series, entitled appropriately enough,
Superboy`s Legion
.
According to DC, "A rocketship blasts away from an exploding planet just in time. Inside the ship, the last survivor of an entire civilization sleeps. His destination: 20th-century Earth. Only the Kryptonian ship veers off-course, enduring a thousand-year journey into the 30th century, where it ends up being discovered by billionaire industrialist R.J. Brande.
"The story of the Last Son of Krypton takes a different, yet somehow familiar twist in SUPERBOY`S LEGION, a 2-issue Elseworlds miniseries in the Prestige Format from the JUSTICE LEAGUE OF AMERICA: THE NAIL creative team of writer/inker Mark Farmer and penciller Alan Davis (The Avengers). Brande`s now adopted son, `Kal,` grows up an impetuous teenager with powers and abilities far beyond those of mortal men. Alone and without purpose, Kal is regarded by many as a childish boy who dreams about the super-heroes who protected Earth a millennium ago. But certain events prompt young Kal to turn those dreams into reality, as he decides to find other unique teens like himself and form a Legion of Super-Heroes! Unfortunately, their first mission may turn into a nightmare for the young group of heroes, as unseen forces enter the equation and look to strengthen their grip on a universe they already control! "
RETURN TO TOP
---
BATMAN: HOLLYWOOD KNIGHT
In the Golden Age of Hollywood, at the height of production of the great serial movie adventures, the most successful serial of all features a man in a Bat-suit, fighting crime and striking fear into the hearts of evildoers. But this "fiction" soon becomes a reality in BATMAN: HOLLYWOOD KNIGHT, a 3-issue Elseworlds miniseries written by Bob Layton and illustrated by Dick Giordano.

Byron Wyatt is a successful actor/director/producer, whose independent film company, Gotham Pictures, creates the Batman serials based on the popular comic-book character. But Wyatt (who stars as the Batman) and his success threaten to undermine the big studio Arkham Pictures, run by mogul Jack "the Joker" Napier. After several threats from Napier fail to sway Wyatt from stopping production of the serials, Napier uses his mob connections for a more permanent solution to his problem. After the mob kills off the production crew and sets fire to the sets, they find Wyatt in costume and shoot him in the head.

Only Wyatt doesn't die.

When the actor regains consciousness from his near-fatal head wound, he has no memory of his true identity. Instead, he only remembers his life as.the Batman, and is consumed with a thirst for vengeance for the murder of his "friend," Byron Wyatt! Will his memory fully return before the ultimate confrontation with Napier? And if so, will he still have the fearlessness of the Batman to bring Napier down for good?
Sketches from THE DARK KNIGHT STRIKES BACK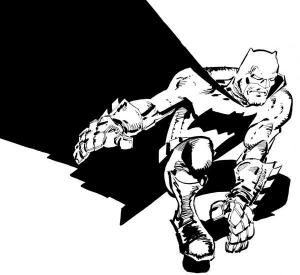 Superman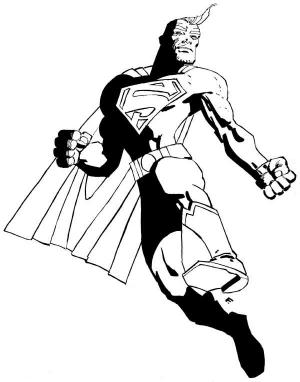 Captain Marvel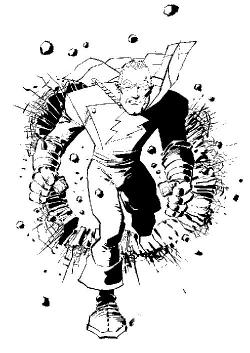 Wonder Woman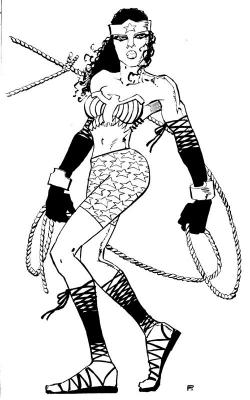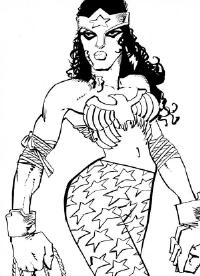 Catgirl (Robin from dark knight 1)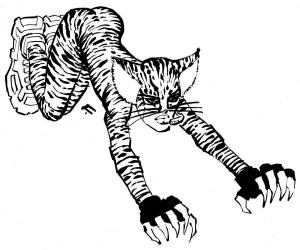 Wonder Chick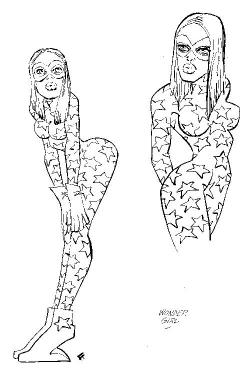 Black Canary